He passed through the dining room where, naturally, the table was already set. She'd used festive
plates, which meant she wasn't going for elegant or drop-in casual. Tented linen napkins, tea lights in

cobalt rounds, inside a centerpiece of winter berries.


Even during the worst time, even during the Seven, he could come here and there would be fresh
flowers artfully arranged, furniture free of dust and gleaming with polish, and intriguing little soaps in

the dish in the downstairs powder room.

Even hell didn't cause Frannie Hawkins to break stride.

Maybe, Cal thought as he wandered into the living room, that was part of the reason—even the
most important reason—he got through it himself. Because whatever else happened, his mother would

be maintaining her own brand of order and sanity.
______________________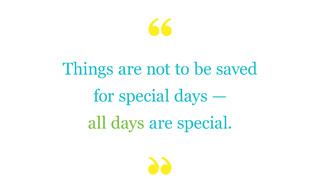 Houzzers recall the special traits, insights and habits of their mothers
What makes a house, a home? For many of us, our mother is intrinsically part of the answer. Whether it's the smell of lemon furniture polish when we walk through the door, new curtains in the kitchen for every season, crisp and clean laundry hanging on the clothesline, steaming food sitting on the kitchen table or simply the presence of loved ones, Mom is usually responsible for what we equate with "home."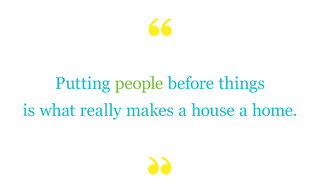 ______________________
It was the same, Seth thought. It didn't matter what color the walls were painted or if the old sofa had

been replaced, if a new lamp stood on the table. It was the same because it felt the same.
The dog snaked around his legs and made a beeline for the kitchen.
"I want you to sit down." She nodded to the kitchen table, under which Witless was sprawled, happily

gnawing on a hunk of rope.